What a reenergizing month this has been. I had been feeling kinda stale and uninspired, but a couple of great workshops have the creative juices flowing again. Today was spent learning to felt with
Pamela MacGregor
. Be sure to check out her website as she does some really amazing work. Linda Woodward hosted the workshop at Montgomery College in Conroe. Linda is a woman after my own heart and always seems to find some of the most interesting people to come share their knowledge with us. This was my first attempt at actual felting. Many people do not discriminate between fulling and felting. Agitating loosely knitted or woven fabric creates a similar dense fabric, but you can still see the structure of the stitches or threads. Felting is the process of matting, pressing, and condensing
fibers
to create a dense fabric. You have much more control over the shape, size, and density with felting. Our project today was to create a felted vessel. I had no idea just how much energy is involved in getting the fibers to mat together! We spent the morning laying out, wetting, and pressing the fibers on a form, then embellishing it with yarns, cloth, and pebbles to create a design.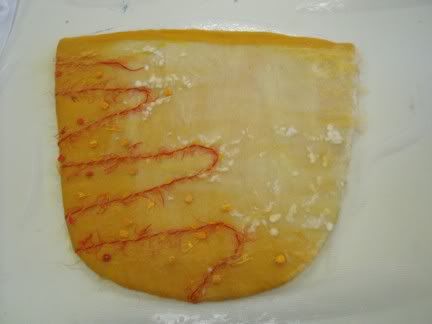 Front of vessel before felting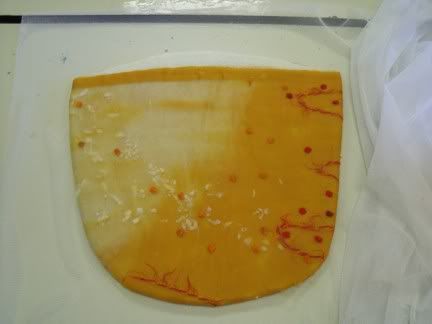 Back of vessel before felting
After some yummy Chinese food for lunch, we came back fortified and ready to work. You can't imagine how much rubbing, scrubbing, and pounding it takes to get the process going! Mine could still use more work to get it a bit denser, but I'm ok with it as is and just have to add the beads to finish it off tomorrow. Not bad for a beginner! My only disappointment is that the little pebbles disappeared into the white felt.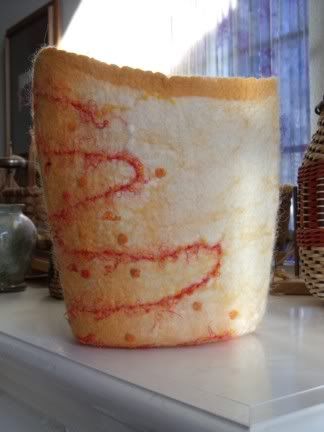 Front of almost finished vessel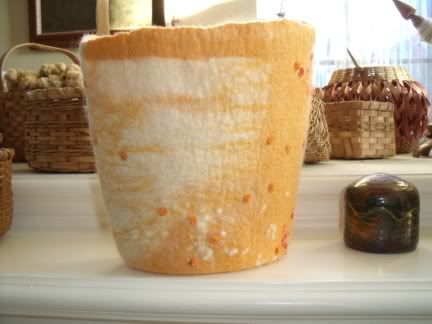 Back of vessel