No knitting vacation is complete without exploring as many of the local yarn shops as possible. And for only having a couple of free days, we did pretty well! While we were at camp, the group made its way to
Table Rock Llamas
. This was probably our favorite shop of the week. The had a good assortment of the usual yarns, but also lots of handspun, hand dyed, rovings, books, spinning and weaving accessories. Since I was planning to spread my purchases around, I only came home with some dark brown/black handspun alpaca yarn for a warm hat and scarf, and 4 oz. of merino/possum roving. This is the kind of shop that you would love to have nearby. The staff is friendly and they have great classroom spaces. And yes, I know I could have spun the alpaca myself, but it was asking to come home with me.
We left camp on Thursday morning and after sightseeing and a short hike in
Garden of the Gods
, we hit the Colorado Springs yarn stores.
Our first stop was
Needleworks by Holly Berry
. Cute shop, friendly staff, good selection. We came out with needles to try Magic Loop, and a couple of patterns. Down the street, we found
Green Valley Weavers
. Not a huge selection of yarns, but great books. I found three weaving books that I had been looking at online, but hadn't ordered. They carry a lot of supplies for knitting, spinning, weaving, and dyeing. And once again, very friendly.
On Friday, we took the cog railway up Pikes Peak where it was 22 degrees at the top! Since we booked our trip so early, we had front row seats on the train with a great view all the way up. Once at the summit, we had to pose for the usual tourist shot in front of the sign. That's Roddie and I with our Knitter's Magazine so we could send the shot into the magazine for our 5 seconds of fame.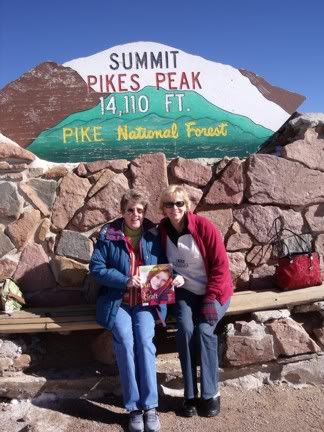 Since our flight home didn't leave until 7pm Saturday, we had all day to shop our way back to the airport. We started in Boulder at
Gypsy Wools
. This is a wonderful little shop specializing in their own hand dyed yarns and fiber. The perfect place to find something special. We only had limited space left in our luggage, so I only bought some laceweight yarn for a shawl to do as a reminder of our trip.
And no trip to Boulder is complete without visiting
Shuttles, Spindles, and Skeins
. They are one of the largest shops we visited, but we were kind of disappointed in the selection this time. Maybe we were just on shop overload, but they really didn't stand out except for size. The only thing I got was some merino roving for a workshop this next weekend since I didn't have time to shop at home. We did find a great brew pub next door that had some tasty nachos and interesting beer. The raspberry wheat was something I had never tried - pink and yum!
After fortifications, we were off to Denver. First stop was
Knit Knack
in Arvada. Cute shop in a quaint little shopping district. We found some unusual accessories, and they had their own coffee bar. Definitely a place to hang out and knit! From there we stopped at
Recycled Lamb
. This place was the surprise of the trip. Located in a not so pretty strip center, they had a great selection of knitting and weaving yarns. The staff was friendly and showed me a beautiful handpainted warp that I brought home to do a big scarf. There were groups of knitters in two areas and everyone seemed to be having a great time.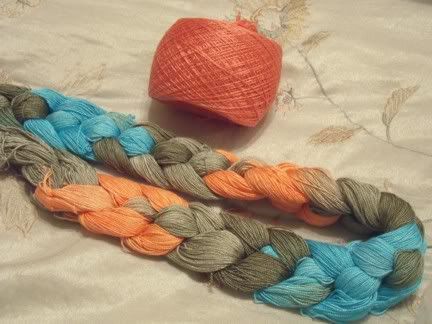 The colors are deceiving. In person, they aren't quite so vivid. And the tencel for the weft is not so orange.
By now, we're starting to watch the clock since we still have to turn in our rent car. But we move on to
Shower of Flowers
. This is a huge shop with a fantastic selection. Something about it seems a bit impersonal, but if you need one of the major brand name yarns, they probably have it in every colorway. And they had the best selection of buttons of any of the shops we visited. Our last stop was
The Lamb Shoppe
. This shop was in a nice older neighborhood, but it was a zoo inside. When we walked in, no one greeted us, there was a large very noisy group knitting at a large table. There were boxes and messy skeins of yarn everywhere. Don't be deceived by the picture on their website. It really had the potential of being a beautiful shop, but we just turned around and walked back out.
So that's it. Nine yarn shops, and only one dud in the bunch. Can hardly wait for the next trip!