Just back from a great week in Colorado Springs for CONK 2009 (Colorado Knitting Camp). We had 3 days at The Hideaway with our instructor Susanna Hansson
www.oneofsusannas.com
learning all about Rovaniemi mittens.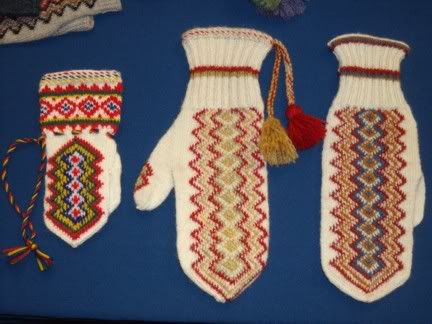 I had never heard of them, but am always up for a challenge. And challenging it was! We started off doing a sample in worsted weight yarn to get a feel for the patterning, then it was time to dive into our wristlet samples with fingering weight yarn on 000 double points! Susanna provided all the supplies and we were all able to make our own color choices for the wristlets. The big surprise was when virtually everyone disliked their choice after getting the first one started. That led to a 3 hour exercise in choosing colors and designing the color placement.
Roddie's sample is bottom left, mine is bottom middle.
After making my second choice, I spent about an hour coloring in the charts for the final mitten, only to decide that I still had one bad color in my palette. Once that was fixed it didn't take long to color in three more charts and choosing the best one.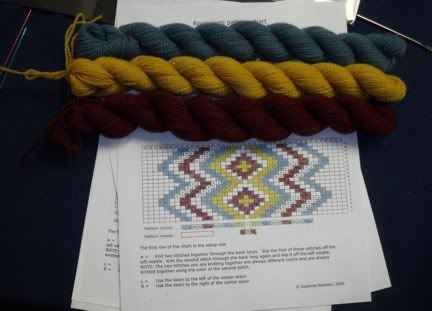 Now I just need to make the time to finish designing my mittens. While at camp, I worked on completing the wristlets to see if my tension was going to change as I became more comfortable. So now wristlets are finished. My tension has stabilized. And I'm going to have to go down to 0000 needles! Yikes!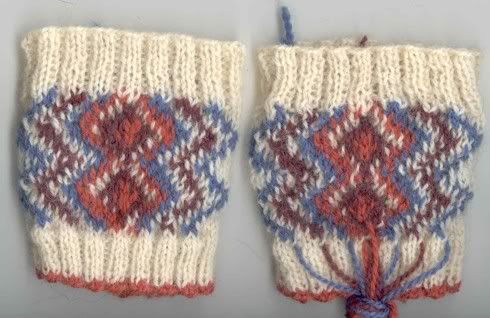 My wristlet samples. (the ends haven't been woven in or blocked yet on the right one)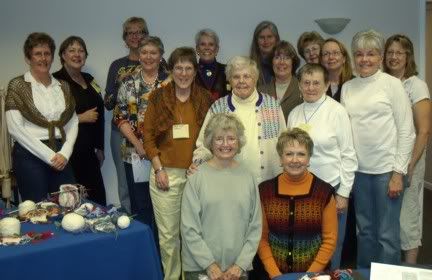 Our mitten class. That's Susanna between Roddie and me.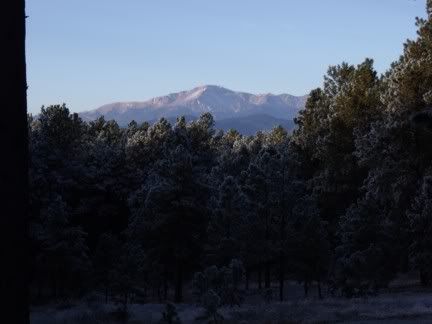 Our view of Pikes Peak from the patio.