All of us survived Riley's first whole week away from mom and dad. And in spite of the rain, we managed to get a lot done! We started the week at Moody Gardens in Galveston. The aquarium pyramid and rainforest pyramid got rave reviews from everyone. Riley's favorite animals were the sharks and the blue parrots. He even managed to get the parrot to talk a little bit.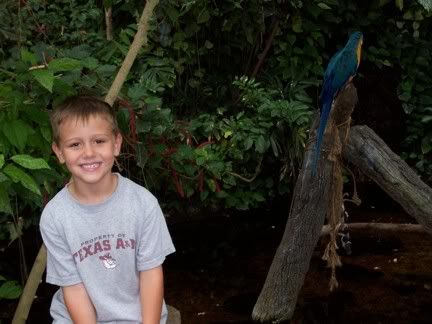 After wandering through all the pyrimids and seeing the IMAX show on sea animals, we headed back to the hotel for a swim before dinner and the last shark Imax show. After pestering us all day to go to the pool, it took some coaxing from grandpa to actually get Riley in the water. But after a bit, he was splashing around with the rest of the kids. Maybe next year we'll get him swimming.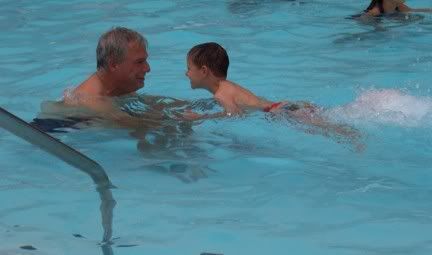 At one point during the day, Riley took this photo of gramma and grandpa. I had to laugh when I finally saw it because it looks the way the day actually felt - like a whirlwind!
On Wednesday and Thursday, the guys headed to MSR Houston to test out the carts. This was more up Riley's alley and he had a great time! Is his own cart in the future? We'll see...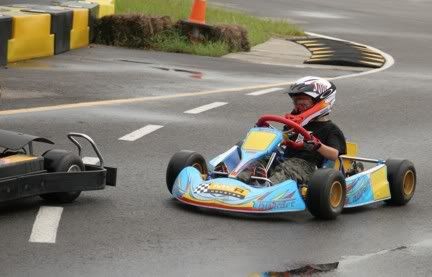 On Friday, we found some pint-sized golf clubs, climbed in the golf cart, and headed out to see how they played. Unfortunately, I forgot the camera and Riley was not about to let me waste any time to go back and get it. Maybe next time. He was able to hit the ball about 30 yards with the driver and 7-iron. We're still working on etiquette on the green. Trying to get this kid to slow down long enough to aim was a challenge! He took the clubs home with him so dad can help him before our next outing. Unfortunately, we had to head home on Saturday so he could settle in a little bit before kindergarten and soccer practice start on Monday. Next summer, we'll have to plan for more time. As always, there's just too much to do.