Ok, so I didn't quite finish up my 2007 projects, but December was a blur and I had a bad cold during the last week. But now I've finished spinning the green merino/silk that I've had on the bobbins for quite a while. I think I lost some of the fiber somewhere and ended up with 500+ yarns of fingering weight yarn. I was very pleased with how even it turned out. When I plyed the two bobbins together, they actually came out pretty even with only a few yards left on one. I think I'm going to make a present for someone out of it. Here's a picture of the finished skein. It is kind of a heathery bluish green.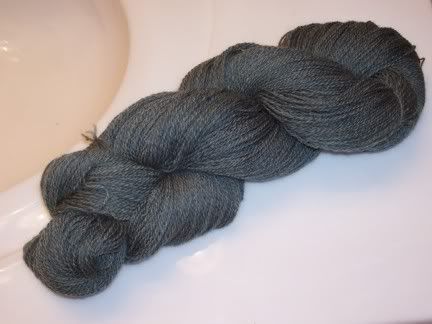 I also finished the "
Frosted Ferns
" doily by Herbert Neibling. It is a free pattern, but is not charted. I knit it using a couple of OLD odd balls of J&P coats six cord mercerized no. 20 cotton thread on size 1 needles. It was ecru, but when I finished up there was a definite line at the spot where I changed balls. Since it wouldn't wash out, I bleached it white then treated it with "bleach stop". Don't cringe! This is not an heirloom in any sense of the word, so I'm not worried about it degrading the thread. I had some problems with this doily in several places (stitches slipped of the Addi Turbo needle), I don't like the hand of the thread, and I don't really like the edge. Mostly I just knit it to get of feel for Neibling's work before I start "Lyra". Frosted Fern will make a nice table topper, which is ok. Everything has it's place. It's funny how you just kind of know while you're knitting, when the project is going to totally exceed your expectations or when it's just going to be a learning experience. And materials play a big part.