January isn't even over yet and I've already got in another full day of spinning! 2008 is going to be a good year. Today Roddie and Paula came over to try out my drum carder (
Louet Jr
.). BTW, for those interested, Louet has a good little
carding tutorial
on their website. Roddie had brought a bag of red llama that we got from Jane's stash. The fiber hadn't been washed or skirted yet, so there were some second cuts and grass but she and Paula were able to get a lot of that out as they carded it. The final batts were soooo soft! Made me want to make a trip to storage to dig out some of mine!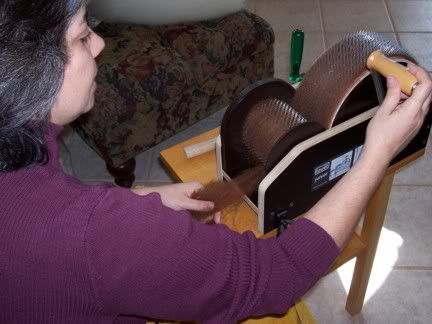 After everyone left, I cleaned all the fiber off the small drum of the carder and ran it through my Indigo Hound combs and was able to salvage a nice little handful of fiber. Is that not the most fabulous color?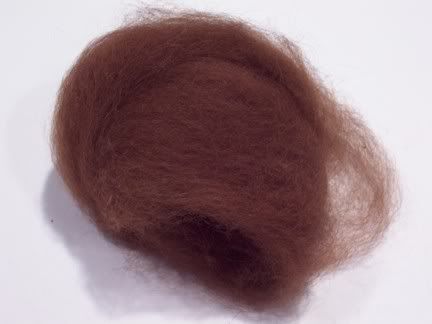 While Paula was carding, Roddie worked on spinning another batch of llama fiber that is more brown. It looks like it's going to be a wonderful laceweight yarn. The only bad thing about spinning for lace is the fact that it takes so long to fill up the bobbins! I'm still working on my moorit merino, but am on my last bobbin. Hopefully I'll have enough to do something good. Here are some pictures of Roddie at her Ashford Traditional. That's Bailey snoozing in the background. She had a great time having a houseful of people to pet her.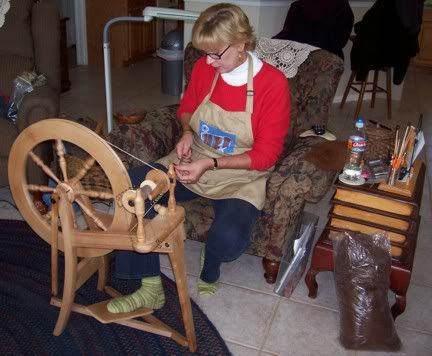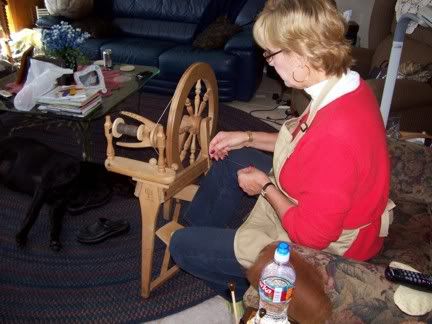 I spent the rest of the day (and evening) spinning up a couple of bobbins for a plying demo tomorrow. Early in my spinning days I bought a white fleece, that I have since lost the name of, and some
Black Welsh Mountain
roving. I did quite a bit of bulky weight "barberpole" yarn that is currently in storage. Then recently I found more white uncarded fleece. So now I'm trying to use it up and have enough yarn to make either the
Einstein Coat
or the Asymmetrical Jacket (pictured on the cover) from Sally Melville's book,
The Knit Stitch
. The two contrasting bobbins will make a good demo because the singles are heavy enough to really see the fiber direction while plying. I learned early to make sure the fibers lay parallel in the final yarn to be sure that it will be balanced after you wash it. That really helped since I normally am plying from bobbins that have taken weeks, if not months, to fill (I do mostly laceweight yarn). Below are pics of the singles and the final yarn. It is deliberately a bit "thick & thin" so there is approximately 30 yards in 100g of finished yarn, and it varies from 5-7 wpi. I'm planning on dyeing it a dark plum before knitting.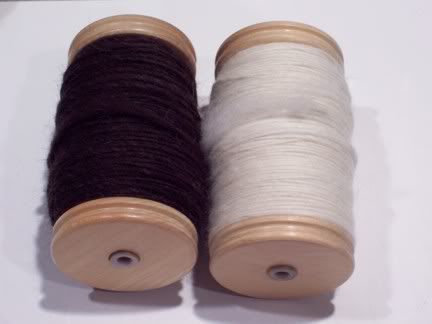 Originally I had started this yarn with another project in mind and knit this hat to test my sample yarn. The hat yarn was the same "barberpole", but I added locks of mohair every 4" as I plyed the singles together. It was a pain in the neck and that project was scrapped immediately. But I do love the hat and may make two more for my grandsons! Before knitting, the finished yarn was dyed with koolaid. I didn't keep any kind of records, but I think I used cherry, lemon, and lime. Don't hold me to it though. I do remember that the colors didn't come out the way I expected.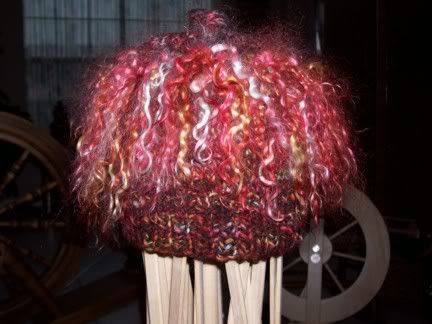 This does get some looks when worn!
Unfortunately, tomorrow I will be back to real life again and catching up on all the things I didn't do today. Unless of course, that my Lotto numbers come in! One can only hope! After all, somebody has to win it and it may as well be me.