Well, I'm feeling a little better about it today now that I've got all the ends finished and it's on the table. I still don't care so much for the solid border and if I did it again, I think I'd figure out how to replace that. Here are a couple of photos of the finished doily.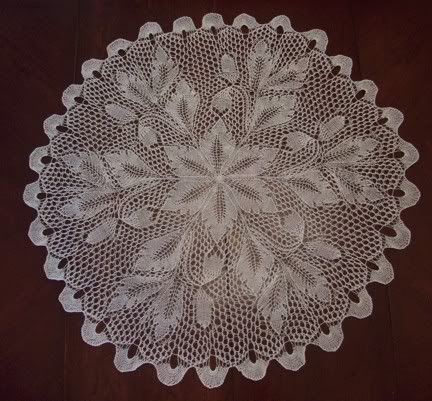 And I finally got started on Lyra today. I thought my arm was going to fall off before I got that skein of Tencel wound into balls! 2200 yards is a lot of winding! At first I was kind of worried about the long color changes pooling, but now that I'm going, it doesn't look like that is going to be so much of a problem. What I am worried about is being able to see the pattern with is multi-colored yarn. It's still too early to make the call, but I wouldn't be surprised if I had to start over with a solid color. Maybe by next weekend I'll have enough to solicit some opinions.
This was a pretty productive weekend considering I spent all of Saturday spinning. Tall Pines had a spin-in instead of our usual January meeting since it would have fallen on New Year's Day. We had a good turn out with 4 or 5 new spinners. Esther's new wheel got here just in time, so we put it together there and she was able to finish the bobbin she started at my house, and almost finish another one! All were impressed with how nice it was. Looks like she's just a natural spinner. Sure made me look like a good teacher!