Today was Stitch 'n' Pitch day with the Houston Astros, as well as a tribute to Craig Biggio's 3000th hit. We really lucked out that they had already set aside a block of tickets for knitters/crocheters/etc. The game was a sellout and packed with everyone decked out in their Astro's gear. We had a good time, but the "stitch" group sure made a poor showing. Considering how many knitters we have in the Houston area, turnout was pretty sparse. I did finish up a cute preemie cap that looks like a baseball. If you'd like to test knit the pattern for me,
click here
. Below is a photo of the hat on a softball to give you an idea of the size.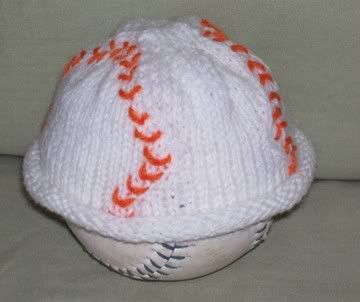 I did get some good news in the mail this week. My entry for the Texas State Fair made it there in time, so we'll be making a road trip next weekend to drop off the Rose of England tablecloth (lace knitting category), and the Beaded Shapely Shawlette (handspun category). You can see pictures in my 2006 Finished Items album at
http://www.grammaknits.net/ngallery/
The tablecloth won Best in Show at the 2006 Brazoria County Fair, and the 2006 Knit at Night Guild 10th Anniversary Conference. Sure would be nice to make it three in a row! The shawl was just finished last Christmas, so this will be it's first entry. Looks like I'll be taking this year off from entering the county fair since I haven't done much "entry worthy" knitting this year.