Yesterday Roddie and I packed up the "school bus" and were on the road to deliver the tablecloth and shawl to the Texas State Fair in Dallas. After spending that much time on it, there was no way I was going to put it in the mail. I have this fear of the FedEx truck being in an accident and catching on fire with my stuff in it. Not a reasonable fear, but hey, it could happen. I didn't spend 3 years on that thing to have it go up in smoke! It's hard enough just trusting the fair to keep it safe. The judges mail out the results of the various contests in mid-September, so I'll know then if we're going to need to make a trip back to the fair to see the display. In the meantime, here are a few photos documenting delivery day.
Getting my stuff out of the bus.
At the needlework booth
Hey don't unfold that!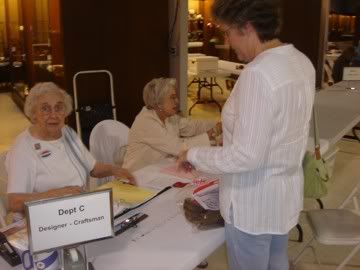 Don't be alarmed. It's just my manager documenting the occasion.
With that chore out of the way, we visited a great yarn shop in Arlington called "
Yarn Heaven
". We were greeted at the door by Sparkle, the shop puppy. There are also two beautiful angora bunnies in a cage with fluff just waiting to be spun. Tarie has a well organized shop with a huge selection of needles and yarns. I was trying to be good, so I only came home with another ball of
TOFUtsies
, some Dream Baby for caps, and a few sets of Inox needles that were on sale. I just finished one set of TOFUtsies socks and really like them. The are cooler than 100% wool socks. The only drawback is that they need to be knitted on size 0 needles. I don't mind that, but I know a lot of people who do! Here is a picture of my first pair in the "Underfoot" colorway.
Roddie bought a nice heathered forest green yarn for that cute sweater on the cover of the Fall 2007
Interweave Knits
, plus needles and some sheep note cards. And we got to see the
"Bella"
shawl from Fiber Trends, all knitted up. It is WAY nicer in person than in the picture. The shop shawl was knitted in
Lorna's Laces
"Helen's Lace"
, which is a much nicer choice than what came with our pattern from Joslyn's Fiber Farm shawl club. But then again, it's a little pricier too. You get what you pay for most of the time.
After a stop for Mexican food at El Conquistador, somewhere around Waco, we were on our way home. And we managed to dodge almost all of the rain all day!