I actually took some time off from work last week to attend my nephew's wedding in Oklahoma City. The wedding was held just outside of town at the beautiful Express Ranch. The bride and groom really outdid themselves planning this elaborate affair. There were activities planned all weekend to keep the guests and kids entertained - food, movies, a tour of the ranch, and a trip to pick up the new Harry Potter release the night before the wedding! It was absolutely beautiful and everyone had a great time. Below are a few pictures.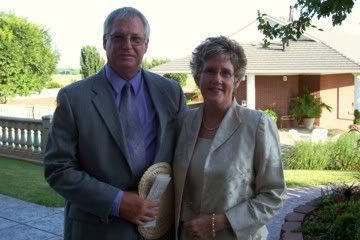 Here we are all dressed up. It doesn't happen very often so I made sure to get a photo.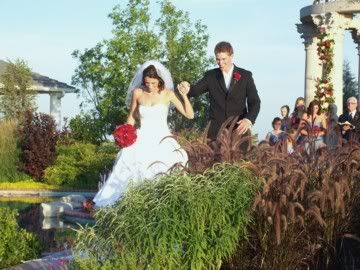 Here is the happy couple carefully coming back across the bridge at the end of the ceremony. The setting was beautiful; even cows chimed in to wish them their best.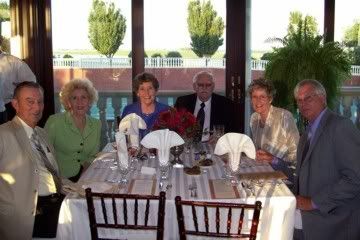 Here we are (right) at the reception with my aunt and uncle (left), and mom with new hubby (center).
After brunch on Sunday, we left on our trek to Seattle, WA to pick up a 1936 Gibson tractor for my BIL's birthday. We've always enjoyed taking driving trips, so 5000 miles was not too bad (we've done worse)! Also got to see my sister, her new house, horses, and dog. Hopefully we can go back sometime soon when we can actually stay for a while. Washington state is just beautiful in the summer. We had actually planned a leisurely drive back, but after a rock slide, a washed out bridge, and a dead battery put us a day behind, it was kind of a quick trip home. I did get a lot of knitting done though.
I was going to work on the Victoria Shawl, but knitting with cobweb weight yarn while riding in a truck is much too dangerous. So I opted on a pattern we got at a guild meeting a couple of months ago - "Carol's Clever Little Shawl". I had some
Brooks Farm
yarn that was just barely enough. But I like the pattern so much, I'm going to do a little modification and knit it again with some space dyed mohair/wool yarn that is also from Brooks Farm.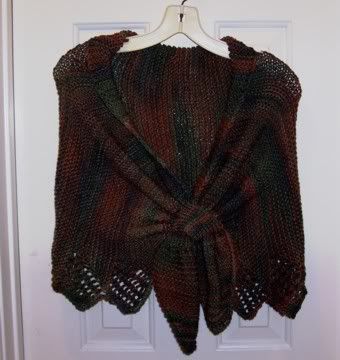 After that, I started working on Lucy Neatby's
"Camelot Socks"
. As you can see, I got down to the foot and got a little befuddled so I had to stop. It's hard to concentrate with someone constantly wanting you to pay attention to the map! I'll pull them out again this weekend and see if I can get started again. While that was on hold, I finished a pair of plain socks that I'd been carrying around since MS&W in May. Nothing special, just something to keep my hands busy.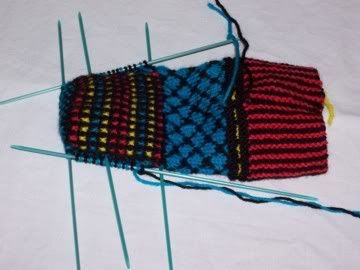 This weekend I've got to get the guild website up to date so I can turn over the reins to my successor. WooHoo! Now I can start to work on MY website
http://www.grammaknits.net
. The goal is to compile all the little bits of information on various crafts that I'm interested in to one place. Handy for me, and hopefully handy for others. I'm planning on keeping the blog just for my personal stuff.
Stay tuned...