Last night I managed to finish binding off all but one repeat before I had to leave for a guild meeting. Then when I got home, we had had a lightning storm which knocked out power to the neighborhood! I stayed up as long as I could hoping that the power would come back on so I could finish, but finally had to give up. So this morning I got up and crocheted off the end, washed it, and Lyra is now on the floor blocking in my living room. I think it looks better than I expected. My plan was to use it as a topper over a white tablecloth, but the colors bled so bad during washing that I'm afraid to do that now. So I guess it will just be another shawl, even though I am not a big fan of round shawls - too bulky on my football shoulders. Here are the statistics for those of you who care:
Pattern: Lyra, by Herbert Niebling
Yarn:
Heritage Yarns
8/2 Tencel in "Tallahatchee Bridge" colorway
Amount: Started with 8oz skein of approx. 1680 yds. Had 2oz left. Used approx. 1470 yds.
Needles: US 2 and 3
Blocked dimension: 60" diameter
Before pinning
After pinning (this is what makes lace knitting worth it)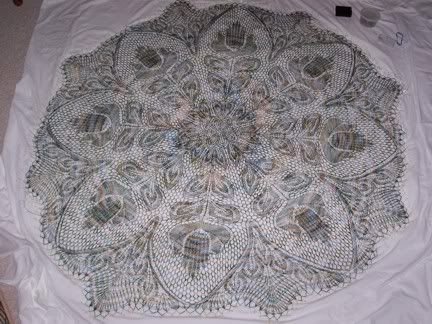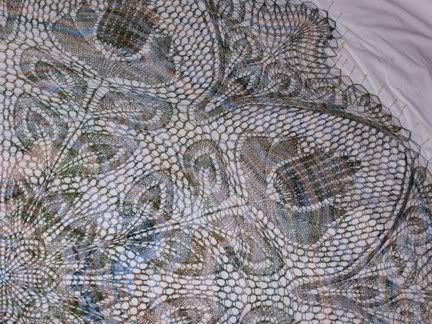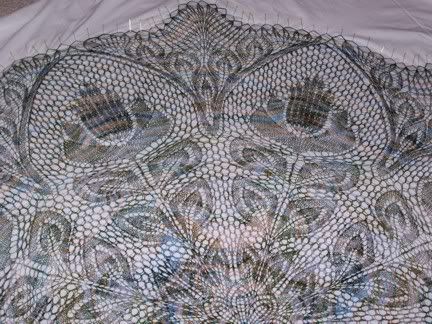 My project for this summer is to finish some things that have been sitting for a while, so now it's on to the Forest Path Stole. I want to be able to wear that yummy cashmere this winter!