Since the grandson's birthdays bracket Mother's Day, I decided to go up for the big party and take my own mom with me since she doesn't get to see them very often and it was a nice break for the two of us anyway. Seems like we just don't get much time to visit like we used to when we played golf all the time. So it was nice to have a 4 hour drive to catch up.
On the big day, our job was to entertain Riley while his mom and dad got things ready for the party at the park. So we started with a little basketball. How many kids can say that they shot hoops with their great-grandmother?!
After that, it was off to McDonald's for a quick lunch and a few minutes on the playground there. Riley is slowly expanding his diet to include a few more items besides chicken nuggets and macaroni & cheese, but not much. It's no wonder he's such a string bean.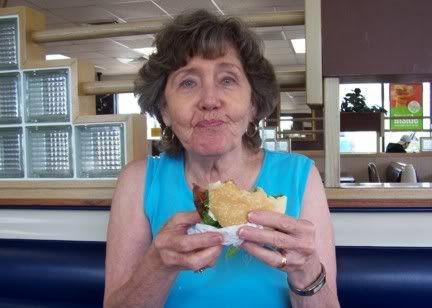 Once we hit the park, from then on everything is a blur! They've got loads of cousins, plus Riley's class was invited too, so there were kids everywhere. Tucker was a little overwhelmed by all the chaos and was happiest just hanging out on the swings with mom.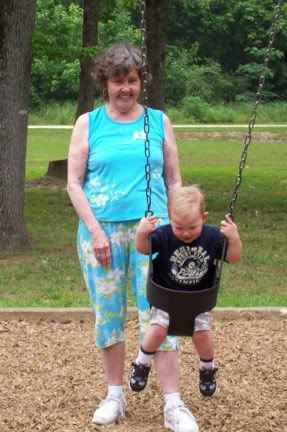 After the pinata was broken and things were starting to wind down, someone snapped this shot of us, not too worse for wear. Unfortunately, I didn't get time to find mom. I never seem to be able to get everyone in a picture at the same time!
Finally we made it home and I managed to get one picture with the boys, but had to give them food to sit still for a few seconds. And once bath time was over we all crashed. It's exhausting just being around that many kids under 6!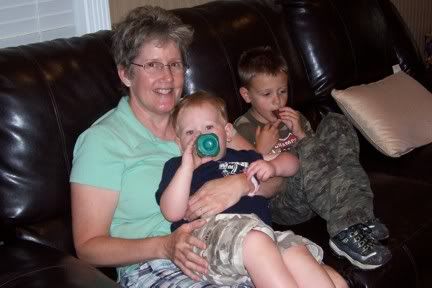 After a mother's day breakfast near our hotel, mom and I headed for home on Sunday. Shelly deserved to have at least a little time for herself and to see her own mom without having to entertain us. Plus, as always, I've got work the next day. Since we made it back in the afternoon, we had time to stop by to wish Gran a Happy Mother's Day too. She's looking pretty good for 97!
Hope all the mothers out there had a wonderful weekend that involved no cooking or cleaning!