I think Bailey missed me! Here's the view as I try and get this onto the blog.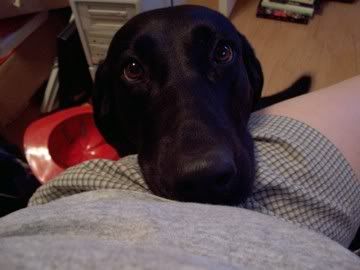 We're back from our annual girl's weekend to the Kid 'n' Ewe fiber festival. And once again, it was a rousing success. The festival is growing each year with more and more vendors and demonstrators. This year the cashmere goat association was represented too. I was having too much fun to take very many pictures, but here's a link to the ones I have -
festival pics
.
Our first stop was
Jojoland Yarns
. We discovered them last year and couldn't wait to pick up more. The colors are beautiful and I love the laceweight yarns for shawls. They've made the big time by being featured in the current issue of Knitter's Magazine.
On the way in to get to Jojoland, we passed CJ, of Donlee Acres, with her Angora rabbits for sale. Since Roddie and I each have a big bag of angora from our friend Jane's bunnies, we were curious about how to spin it. CJ graciously gave us a great lesson in spinning Angora straight from the bun! (You can see photos in my photo gallery) If you'd like to see more of CJ's bunnies (and other animals),
click here
.
Since Roddie and I both have a rather extensive yarn/fiber stash, we weren't really doing a lot of impulse buying. Her sister, Debbie, picked out some yarn so Roddie could knit her a gift; and we all bought some alpaca sweaters from Bolivia that were adorable and an absolute steal at $35. I found a few Christmas gifts, too, that I can't mention in case the recipients are reading this. And I bought a smattering of yak and buffalo fibers to spin (that was my big splurge purchase this year) from
Buffalo Gold
. I think I got enough to do a few luxurious scarves if I spin it laceweight.
We also made a stop at
The Old Oaks Ranch
booth where I got a guick lesson in weaving. As you can see, it was a lot of fun but I don't have room for another hobby at the moment. But later?
After making the rounds at the festival, we headed to lunch at
Boerne Vistro
to meet friends for lunch. The food was wonderful and I don't think there was a crumb left on anyone's plate! Now we just needed to walk it off at a craft fair in the Boerne town square (where we found more gifts). I definitely got a good start on my Christmas shopping this year!
The rest of Saturday and Sunday were spent in a whirlwind of shopping in Boerne and Fredericksburg, and eating German food (with the appropriate beer, of course). We were all exhausted by the time we got home, but were already talking about what we are going to do next year!