September has begun and my summer dedicated to finishing projects is done. It's been a fairly productive couple of months and I am SO ready to get started on some new things. And I don't even have to feel guilty about it! So here's the run down on what I got done...
VICTORIA SHAWL
Designer: Jane Sowerby in
Victorian Lace Today
US 3 / 3.25 mm
Yarn: Jojoland Harmony
How much? 2 skeins = 1760.0 yards (1609.3m)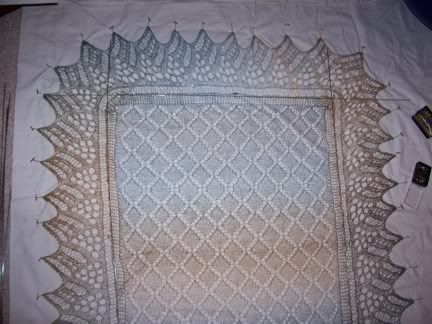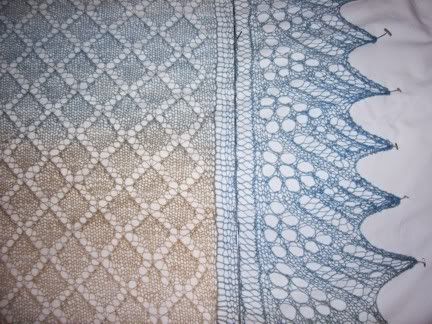 BRANCHING OUT SCARF
Designer: Susan Lawrence for knitty.com
Needle: US 4 / 3.5 mm
Yarn: Jojoland Cashmere (2 ply)
How much? 1 skeins = 400.0 yards (365.8m)
AMBROSIA SOCKS
Designer: Ann Budd for Knitting Daily
Needle: US 1 / 2.25 mm & US 2 / 2.75 mm
Yarn: Koigu Painter's Palette Premium Merino (I think)
How much? approx. 350.0 yards (320.0m)
BABY BERET
Designer: Debby Ware
Needle: US 3 / 3.25 mm
Yarn: Tahki Cotton Classic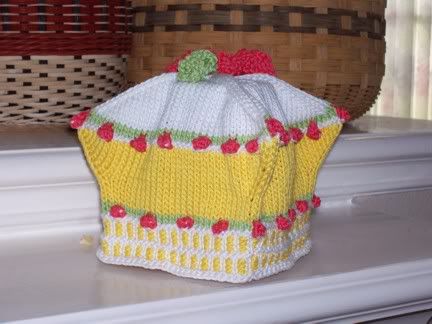 So now I have a very manageable list of unfinished objects (UFO's), I started a new pair of socks while watching the Republican Convention (sock it to 'em Sarah!), and found out today that a friend who has been trying to get pregnant for years finally did it. Sunday I'm off to
Yarns 2 Ewe
to look for baby yarn. I already have a project picked out - an adorable romper from an old Pengouin pattern booklet. I started it once before, but my fair isle skills have improved significantly since then and I want to change the colors up a bit.