Ok, I admit it. I'm woefully behind in keeping my blog even somewhat up to date. But I have been accomplishing a lot in the meantime. I'm finishing up the last two bobbins of spinning for the moorit merino. This afternoon I need to weigh them and split up the remaining fiber so that hopefully they'll come out pretty even when I ply them together. Plus, last night I got another hank finished of my dark brown/white bulky weight yarn that I've been plugging away on for a couple of years. I need to pull all of it out of storage and see how much is there. After dyeing, it's going to be an
Einstein Coat
. Kind of a boring knit in miles of garter stitch, but definitely functional and warm.
The cello lessons are going well. I'm still having fun and am actually able to play a little bit. It's going to be a long haul before I'm ready for anyone to hear it though. And I've been surprised by how much strength it takes to practice for an hour! I was sick last week and couldn't even make it 15 minutes. So this is another good reason to get my exercise in. I really want to be back down to 145 by the summer, but it's not going to happen unless I kick the activity up a notch. Actually, before I came down with last week's cold, I was running 1-1/2 miles twice a week, in addition to my usual Nordic Track or pilate's workout. There are just not enough hours in the day! I'm up at 5:30am, work until 4pm, come home and work out, practice the cello, get dinner on, and hopefully a little knitting or spinning time, and it's past my bedtime before I know it! Throw in a meeting or two, and some housecleaning and I'm totally overextended. But there's nothing I'm willing to give up yet, so I'll keep on plugging along.
I spent the first weekend this month with the boys. DIL's mom is in the hospital so I tried to help keep them a little distracted since all the grownups are under so much stress. Sure wish we lived closer! It's always hard to drive up and back just for the weekend, but they grow up so fast that I don't want to miss a minute. Riley has finished his first session of soccer and now tee-ball is about to start. He'll be 5 in May, and is so coordinated! Wore me out chasing him around the back yarn with the soccer ball. I don't think I could have run AND kept the ball moving forward without killing myself at that age.
Sunday morning was spent at the park to run off all that excess energy. The weather was just beautiful, and the sun felt wonderful. Spring is finally peeking out! It was still a little cool and you can see all the static built up on the slide in Tucker's hair.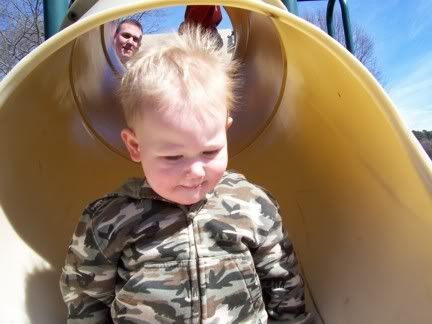 Then here's Riley posing on the jungle gym.
And one last one of dad and the boys. How is it that Shelly always manages to be missing when the camera is out? One of these days I'll catch her off guard.