Wow! This was an exhausting weekend! James arrived home from Topeka early Saturday morning and took a nap while I delivered Bailey to the kennel so we could make the trip to Dallas to see my stuff at the State Fair. And off we went! Fortunately (or not, depending on what you think of driving fast), we hooked up with a group of trucks that were making very good time so it only took us 3 hours to get from home to Mesquite! After a mess up with our hotel reservation, we ended up in a jacuzzi room for the night, which felt good after being so tense on the drive up. I was too nervous to even knit (plus we had the top down and it was too windy).
Sunday arrived and was just beautiful for our trip to the fair. We went to the Creative Arts building first and started making our way around the displays. About an hour later, we were getting to the end and still hadn't seen my entries. But there was a new display right in the middle, and lo and behold, there they were. I felt very special to have both of my entries in such a prominent position! They do such a good job of displaying things at the State Fair. It's always amazing how they can come up with so many themes for each showcase using just what's entered that year. I was really surprised that there were not many entries in the knitting catagories. In years past, the competition was pretty fierce. But I still feel very humbled to have won two 1st place ribbons. Below are a couple of pictures.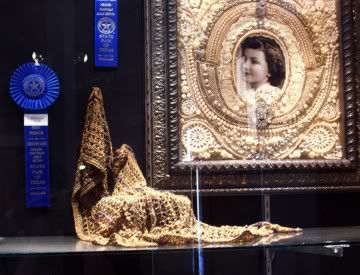 Since James' mom was also gone this weekend, I took the opportunity to try out a new kennel. It's not actually new, but new to us. It's called the
Pooch Pad
and we were very happy with Bailey's care this weekend. She's still on drops for an ear infection, and they made sure that she got all the drops and pills on time. In addition, they take her out to play 6-7 times a day! That's more playtime than she gets at home. She was still glad to be home again, though, and came in with a cute Halloween bandana. She's such a cutie!!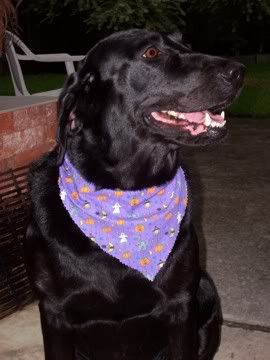 I haven't got much knitting done this weekend (actually none), but I did manage to get one sleeve finished on the bobble sweater before we left. It's really looking cute, and it actually fits! Hopefully I can finish the 2nd sleeve by the weekend. I'd like to have the sweater to wear for
Kid 'n' Ewe
weekend in case it gets cold. We're really looking forward to getting away for that again. I've already got more fiber than I can spin in a few years, but I do want some more yarn from
Jojoland
. I'm using the yarn I bought last year for the Victorian Shawl and it is wonderful to work with. And the colors are beautiful! Last year Roddie bought the cashmere and I bought the laceweight wool. The colors are great and the prices are very reasonable. My only other big purchase will be another case of wine from the
Fredericksburg Winery
. If you're ever in town, stop by for the tasting. They really have some good Texas wines. And their port is delicious! I never really liked ports, but this is great. I need to stock up on the Christmas wine which is wonderful during the holidays. The only problem is not drinking it all ourselves!